Dutch and Belgium Visitors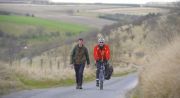 Click image to zoom
Representatives from the world of walking and cycling have recently been in Belgium and Holland promoting East and North Yorkshire cycling and walking routes. See press reports for more information.
Dutch cyclists in particular, expressed an interest in the W2W route.
There is some enthusiasm for the possibility of arriving in Newcastle by ferry, then cycling the W2W route from Sunderland (Wear) or Whitby to the west coast before joining up with the Way of the Roses route in Morecambe and returning back to Holland via Bridlington and the ferry port in Hull. A cycling journey for most of around 8 days.
If you would like further advice about cycling in the north of England, do get in touch and we'll do our best to help.