W2W renumbered to Route 70 / 165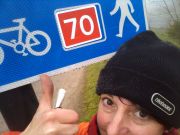 Click image to zoom
Work is well underway to re-sign the W2W with it's new identity from Regional Route 20 (blue background) to National Route 70 (red background). Many of the current numbers for Regional Routes routes are being phased out and new numbering put in place. The Barnard Castle - Whitby section is also being renumbered from Regional Route 52 to National Route 165.
Whether your heading for Wearmouth in Sunderland or Whitby however, there's still 'W2W' on plenty of the signs making the route easy to follow.
This work has been carried out by Sustrans Volunteers who have been cleaning, checking, and re-numbering sections of the route in stages. The work will continue throughout May.