Temporary mapping to Whitby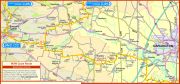 Click image to zoom
Sustrans have sold out of the Discover Yorkshire Moors & Coast Cycle Routes Map and are working towards a revised edition for the summer. In the meantime, here's the Barnard Castle to Whitby route from the original map in sections one , two and three.
Download a copy of the maps as a pdf document. (It may take a few minutes to download, we apologise for any inconvenience this causes.)
A revised edition of the Walney to Wear map is also due later this year.