The Whitby Finish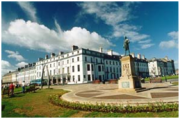 Click image to zoom
There is no 'official' end point to the W2W route. The signs lead you to the start of the West Pier with a ramp down to the beach where you can 'dip your wheel' as is the custom. Alternately, if you follow the aptly named Khyber Pass road up and around onto East Terrace you'll reach the statue of Captain James Cook (by the whale jaw bone arch) which affords a different type of photo opportunity and end point to the route.
As your coast2coast adventure comes to an end, you can consider the epic voyages of discovery this great explorer made. It was probably in the nearby fishing village of Staithes that Captain Cook decided to go to sea, before he subsequently became an apprentice to a Whitby ship owner in 1746. The monument includes a carving of the Resolution, one of Cook's four ships.
Down on the other side of the River Esk is The Captain Cook Museum (open daily from 15 Feb to 2 Nov with a new exhibition for 2014). You'll be fit enough now to skip up the 199 stone steps to the remains of the Abbey, and another great view of this attractive town.
If you're staying overnight, the very comfortable YHA hostel is right by the Abbey (cycle over the swing bridge, along Church St then up Green Lane and turn left). Family run Riftswood B&B also has secure cycle storage.
Do treat yourself to some top notch fish and chips, and if you need a bike shop Doctor Cranks Bike Shack is on Skinner Street (tel: 01947 606 661).

There are only 4 trains a day leaving Whitby for Middlesbrough (Sunday services from Easter onwards), so make sure you don't miss the one you want. Check times at the station, by calling 08457 48 49 50 or at www.nationalrail.co.uk – the limited free bike spaces are not reservable but train staff will do the best they can to get you on-board.