Terrain
Like all the 'coast to coast' routes across the north of England, the route is best done west to east to have the best chance of the prevailing wind behind you. It's 'up hill and down dale' for much of the way, so if that's not the sort of cycling you usually do over consecutive days (with full panniers etc), then some training is probably in order.
Here's the profile for the Walney to Wear route (going via Oxenholme as opposed to going in and out of Kendal). This is a hilly route and depending on which option you choose total climbing could be in excess of 4,000 metres.
The aptly named Bigland Hill (just 20 miles into the route from Walney Island) and the lengthy climb up Tan Hill, the highest point on the route at 1,732 feet above sea level, are two particular treats that lay in store – and where you'll rapidly come to appreciate that it pays to travel as light as possible, and with your tyres pumped up.
After Barnard Castle you could opt for an easier route to Durham via Bishop Auckland, missing out the climb up to Hamsterley Forest. The last 18 miles or so from Durham to the coast is gently undulating too.
Here's the profile for the Whitby option section from Barnard Castle.
The 46 miles from Barnard Castle to Great Ayton is through pleasant, gently undulating countryside, whilst the remaining 30 miles across the spectacular North York Moors National Park is a return to the challenging 'up hill - down dale' cycling that characterises much of the W2W route.

On road / off road
Sections of unsealed roads, tracks or paths account for approximately 14% of the Walney to Wear route.
The route through Barrow on Abbey Road can be a tad busy, but cycle lanes do appear, so stick with it and you'll soon be cruising down the tree-line approach to the impressive remains of Furness Abbey. Out of Greenodd village and after the footbridge over the River Leven it's a bit bumpy into the woods.
The rough moorland track between the Tan Hill road and Sleightholme Farm near Bowes (about 2.4 miles overall) is definitely a section where sturdier mounts and thicker tyres are called for. The 7 miles of railway path to Durham from north of Bishop Auckland is pretty good.
Going to Whitby there's a good off-road track between Commondale and Castleton (about 1.5 miles), an awkward short but steep section of rough track out of Aislaby, and then the cinder railway path into Whitby over the Larpool Viaduct.
Cycle Friendly Places to Stay
Click on the map icons above to view a range of cycle friendly hotels, inns and guest houses on the route. If you prefer to see them listed in mile order, use the Accommodation Pages Campsites, hostels, barns and bunkhouses are also listed. Cycle friendly means that the owners welcome single night cyclists, have secure storage and can either offer meals, or there are places to eat nearby. Let us know if you have a recommendation that is not listed.
The Start
From Barrow, follow either the W2W signs westward or, those for Walney Island, until you reach the sea. If you've arrived by vehicle and need to use facilities, the Furness Golf Club only 50 metres from the start have showers and toilets and are happy to welcome cyclists. If pre-booked, they can also offer bacon butties and coffee.
Distances & Signing
Walney to Whitby is 26 miles longer than Walney to Wear. The route splits at Barnard Castle (103 miles).
Walney to Wear

Split
distance*
Cumulative
distance*
Walney Island
0
0
Barrow in Furness
2
2
Ulverston
11
13
Cartmel
12
25
Grange-over-Sands
2
27
Oxenholme / Kendal
15 / 18
43 / 46
Orton
20
63
Kirkby Stephen
13
76
Tan Hill
11
87
Bowes
8
95
Barnard Castle
8
103
Hamsterley
14
117
Durham
18
135
Wearmouth
18
152
Barnard Castle to Whitby

Split
distance*
Cumulative
distance*
Barnard Castle
-
103
Croft-on-tees
20
123
Appleton Wiske
11
134
Hutton Rudby
8
142
Great Ayton
8
150
Castleton
11
161
Egton
10
171
Whitby
8
179
Signing
Walney to Wear appears on many of the distinctive blue National Cycle Network (NCN) signs you'll be following as National Route 70 and the Barnard Castle to Whitby section as National Route 165. The route is signed in both directions.
Official Map
Printed on waterproof paper, the current version of the official Challenge series Walney to Wear Cycle Route Map covers the whole of the Walney to Wear sections of the route and as far as Barnard Castle on the Walney to Whitby route.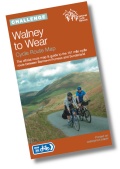 The Whitby option, from Barnard Castle is included in the Discover series Yorkshire Moors & Coast Cycle Routes Map. This map is currently out of print so we've provided a PDF of the Barnard Castle to Whitby section for you to download and print.
From Whitby, National Route 1 going south to Scarborough along the coast hugging, cinder track, disused railway line – is an option, if you decide to cycle the extra 20 miles to catch a direct train from Scarborough to York, or further west as far as Manchester and Liverpool.
Alternately, you could cycle from Whitby south to Bridlington on Route 1, and return to the west coast via the Way of the Roses coast to coast cycle route.
All maps can be bought from Sustrans online shop or by calling 0845 113 0065, and from some en route TICs and cycle shops.
View the 'Temporary mapping to Whitby' news article.